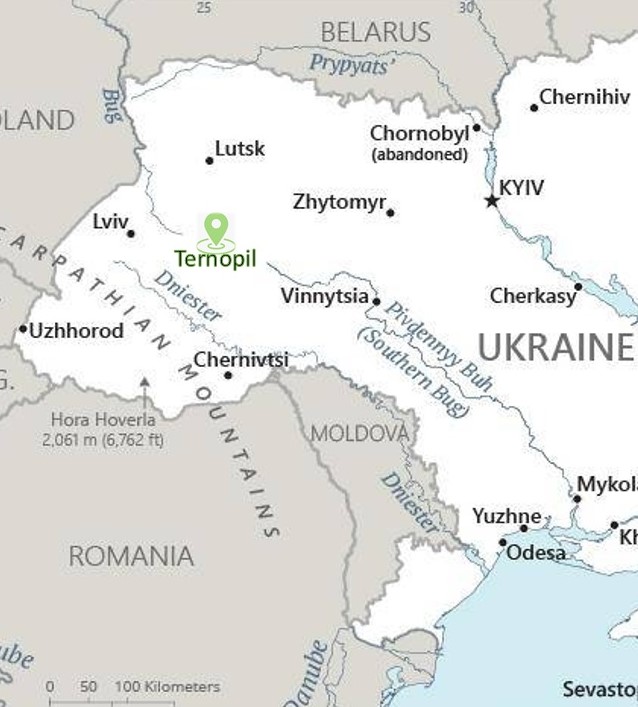 Brief History
RECIF-EUROMEDCLEN is happy to welcome in June 2022 the 16th, our first Correspondant in Ukraine.
We have been in contact, thanks to our mutual friends in Poland, since April 2022. We met through videoconferences, wonderful tools to make our friends closer.
The Ternopyl team organized the seminars described in page Seminars / Teaching, and 61 participants registered from all over Ukraine (Ternopyl, Lviv, Vinnytsia, Zaporizhia, Dnipro, Rivne, Uzhhorod, Sumy, Shupyk, Oleksandrivska….)
The first teaching seminar was scheduled from the 10th to the 14th of October, 2022. We tried to implement it, in spite of the salvage bombing all over Ukraine aiming at civilians and cities which began this early morning. We transform the seminar into online teaching with teaching documents sent every week since, and returns via online forms.
We plan videoconferences to be held all evenings from the 19th to the 23th of December 2022. We will realize the videoconferences if possible.
If not, we will resume our cooperation and overcome the difficulties as they are because
Civilization will prevail over barbarism
Knowledge over ignorance,
Humanism over awful cruelty
Freedom over death and darkness
And Life and Peace among People of Good Will, transcending all cultures, sciences, arts, or beliefs
Our Ukrainian Friends !
We will meet in Ternopyl thanks to our incredible and overwhelming courage,
in 2023
RECIF-EUROMEDCLEN
Members of the team
 

Sofiya Lypovetska, MD, PhD

2004 – Master in Internal medicine (Horbachevskyi Ternopil state medical university)

2008 – PhD in cardiology (Horvachevskyi Ternopil state medical university)

2016 – Cardiology training in Wilheminenspital, Department of Cardiology, Wien, Austria

2017 – Associate professor in the Department of Emergency Medicine (Horbachevskyi Ternopil national medical university)

Stepan Grytsenko, MD, PhD

2014 – Master in Surgery (Horbachevskyi Ternopil state medical university)

2017 – Internship in Eppendorf Clinic (Department for general, visceral and thoracic surgery) Hamburg, Germany

2018 – Internship in National Cancer Institute (Department of surgical oncology) Bratislava, Slovakia

2018 – PhD in surgery (Horvachevskyi Ternopil national medical university)

2018 – Assistant professor in the Department of Surgery №1 (Horvachevskyi Ternopil national medical university)

Sofiya Husak, MD, PhD

2004 – Master in Internal medecine (Horbachevskyi Ternopil state medical university)

2010 – PhD in rheumatology (Horvachevskyi Ternopil state medical university)

2020 – Associate professor in the Department of Internal Medicine № 2 (Horbachevskyi Ternopil national medical university)

 

Larysa Levytska, Professor of medecine

1988 – MD (General Medicine), Ternopil State Medical Institute

1997 – PhD, Medicine (Internal Medicine), National Scientific Center M. D. Strazhesko Institute of Cardiology

2019 – DSc, Medicine (Internal Medicine), Horbachevskyi Ternopil National Medical University

2021 – Professor in the Department of Emergency Medicine (Horbachevskyi Ternopil national medical university)